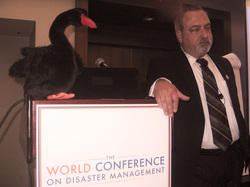 ARSC was back in Toronto for
WCDM 2014
June 16-18. Howard Mannella presented "
I am a Black Swan
" to a packed breakout session. The presentation discussed global trends that are driving the emergence of unforeseeable events, the cognitive biases that impede our understanding of Risk and Probability, and some controls and practices for next-generation Risk Management to help organizations "plan for the un-plannable". "WCDM is a great venue for these types of discussions", says Mannella. "A diverse audience from over thirty countries, all with the common goal of making the world safer. Plus, Toronto is such a great city to return to!" (Mr. Mannella had previously presented at WCDM in 2010, and worked extensively in Toronto supporting Expedia Canada in their resiliency program).
ARSC is available to present on this and other topics concerning
Risk, Organizational and Personal Preparedness
and
Resiliency
to conferences, executive off-sites, leadership training opportunities and other events. Please
Contact Us
for further information.