Expanding into another region of the world, ARSC will be featured at the
BCI Middle East Conference
May 11-12 in Doha, Qatar. Howard Mannella, Managing Principal, will discuss the psychological flaws that impede our understanding of Risk and Probability and how to overcome these cognitive biases. The full agenda can be found
here
.
ARSC was also asked to deliver a pre-conference event.
Introduction to Business Continuity
is a one-day training workshop on May 10 to introduce the concepts of the practice to those new to BCM. The workshop will be held at the
Oryx Rotana
, Al Nahda School Street, Airport Road, Doha. The description can be found
here
.
"This a wonderful opportunity to promote the concepts and practices", says Mr. Mannella. "This region is at the nexus of oil, money, geo-politics and risk. Helping to mature the understanding of
Organizational Resiliency and help them to the next level will make a positive dent in the universe."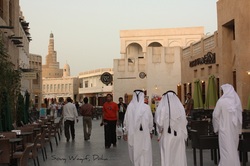 Contact
ARSC
for more information.
(Photo credit Jan Smith)