ARSC recently designed and facilitated an Executive Table Top exercise for
Risk Management Systems
, a Silicon Valley-based SaaS provider of advanced mathematical models of Risk used by insurance companies, capital market firms and sovereign governments. The half-day simulation pitted the
Legal
,
People Strategy
,
Finance, Model Dev
,
Site Reliability & Engineering
,
Enterprise Applications
,
Marketing/PR
,
Software Dev
,
InfoSec
and
Facilities
teams against a hypothetical disgruntled employee with a homemade pressure-cooker bomb. Elements of the scenario included staff casualty, damage to office, systems outage and customer impact. Media attention and reputation risk added additional color and complexity to the hypothetical problem.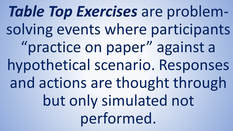 Although ARSC exercise results are confidential, it can be said that the event uncovered a host of surprises. Participants learned that their assumptions cannot always be relied upon, and some perceptions of "how things work" will not match how they actually work in an emergency scenario. The team discovered issues that, when remediated, will make the organization more resilient and better able to continue operations and fulfill their brand promise to their customers, owners and employees.
Dave Ruedger, Sr. Director Information Technology RMS
acclaimed, "Howard provided a very valuable exercise that was both engaging and fun. Everyone who participated walked away with some real 'Aha!' moment realizations that changed some perceptions and challenged some key assumptions about our ability to respond to potentially business disrupting events. I highly recommend A
lternative Resiliency Services Corp
to anyone looking to gain insight into their Business Continuity program and how to better equip their workforce with an effective response methodology."
Howard Mannella, Managing Principal ARSC
adds, "Table Tops are valuable training and leadership development activities: participants learn to think on their feet, think around corners and two moves ahead, make decisions with imperfect ambiguous information and react under stress. These are essential traits that leaders will bring back to their day-to-day activities".
For more information contact ARSC here.

Logo and quotation used with permission.