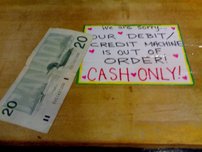 In
Part 1
, we discuss how Cash is under pressure from technology and policy standpoints. There are many legitimate reasons to go cashless. There are also many unique features of Cash that set it apart from digital payments. Cash can also be a critical enabler of Business Continuity and Resiliency. Here's why!
Cash as an Risk Mitigation and Business Resiliency Enabler
How does cash enable Business Resiliency? This is easy to unpack if you accept three notions:
People are the lynchpin of any operation
People will look after their own interests during outage events, especially regional disasters
People will always need to buy stuff
Legacy Business Continuity Planning approached contingency-mode staffing in a theoretical vacuum: we need xxx people during Business as Usual, we can get by with yyy people during an emergency, so let's plan for yyy people to relocate, work out of alternate facilities or Work From Home. However, leading thinking, borne of hard experience in some cases, acknowledges that human factors are controlling, and that people cannot or will not participate in recovery efforts unless they and their loved ones are secure. Many organizations are adopting leading practices of providing employees with emergency supplies, encouraging (and in some cases subsidizing) personal preparedness and housing loved ones (and even pets) for recovery staff.
But what if your critical people cannot get what they need? Think of a typical worst-case scenario: there's a regional event, power is spotty, the ATM's are down. Gas stations are closed or running on generators. Bob and Nancy need gas to drive to the recovery site, and they will not leave Grandma and Fluffy unless they both have food and medicine. The recovery site manager is running out of coffee (coffee!!), food, water and office supplies. The local motel has empty rooms but their payment system is down. The generator is running but the fuel supplier demands cash to continue delivery (he's got the same problems you do). A bit of cash can come in handy in these situations.
A major financial institution headquartered in Boston has a warm standby site in the suburbs – leased under a pseudonym for security through anonymity – and keeps several thousand dollars in "walking around money" on site. They realize that it's better to be prepared with a physical fallback.
Organizations that plan for Plan B should also plan for Plan B cash flow. This can apply to the organizational level, as in the example of the aforementioned institution. It can also apply to employees. The Red Cross encourages a cash stash as a critical ingredient in personal and family go-bags. Yes, there are potential problems with tracking, potential loss and security. Organizations must assess and balance as their risk appetite and imperative for continued operation and employee human factors dictate.
In conclusion, although today's world is increasingly digital and online, when it really counts there's nothing like good old Cash.