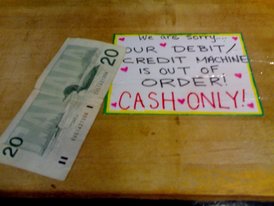 Big words, right? The one-word answer is Cash. I'm no Luddite, but I'm also a Risk Manager and a realistic pragmatist. Let's explore the changing status of cash, and how cash can be a critical Risk Mitigation and Business Resiliency enabler.
The Death of Cash?
Digital transactions are coming up hard behind cash transactions. Some of this is driven by convenience. Merchants find that having a payment processor or terminal is easier than training employees and managing, storing and transporting currency. Consumers are also finding it easier to trade their wallet for their phone, and Google, Apple and others are happy to oblige. Witness the growth of Green Dot, Ant Financial and other fintechs (financial-technology companies), especially among the unbanked and under-banked. The ascendency of online commerce is also a factor, much to the malls' chagrin. If Amazon and others have their way, even the trip to the grocery store and "Paper or Plastic? "will be a rarity. Some of this is also being driven by governments. Witness India, where 90% of payments are cash for now but policy is putting downward pressure on cash. Whether for benevolence, eagerness to jumpstart economic activity or desire to monitor and control citizens, states will be deemphasizing cash, and this trend will continue.
Cash is Still King
Don't rule out cash just yet. Physical currency has several advantages over digital currency:
Cash is non-volatile, instantly bootable and backward compatible. Cash will still work when your smartphone battery dies or your local merchant is in a power blackout. I've gotten great deals at my grocer on food that they want to unload while it's still fresh
Cash is a risk segregation play. How? For the same reasons that digital currency is more convenient, it's riskier: it's all in one place and easier to steal and transport. Willie Sutton, the infamous Depression-era bank robber anti-hero, answered "Why do you rob banks?" with "Because that's where the money is!" Today's bank heists are different: no guns, no safe-cracking, no getaway car and no exploding dye bombs in the bags. A cyber-thief can steal more from his office in Moldova with a laptop than Bonnie and Clyde could dream of. Physical cash-on-hand is even a better play – it's distributed. Physical currency is harder to grab and transport. Thieves also cannot get to currency owned by many people spread across the land
Cash is as anonymous as bitcoin, perhaps even more so – there's not even an IP address to trace. While law-abiding people have nothing to hide, we can all come up with lists of legitimate purchases that we'd rather not be known, monitored or publicize. To know a person's purchasing history is to know many intimate and private details about their private life
Cash can have better penetration and processing time. While it's true that one can buy almost anything online, nothing beats walking into your local store, pulling out a wad of cash and walking out with what you need. Garage sales, flea markets and Craigslist are the last bastions of immediate (and anonymous) purchases
Governments know this. That's one reason why limits on currency exist. A continuing trend is to limit denomination size. The United States no longer prints $500 or $1,000 bills. India's recent demonetization saw the death of the 500 and 1,000 rupee notes. Europe is phasing out the €500 note. Where will it stop? Transport of more than $10,000 in or out of the United States is against the law. Morocco's limit is an amazingly strict 1,000 dirham (less than $100 USD). Yes, there's illicit drug commerce, the black market, terror finance, money laundering and other KYC (Know Your Customer) and AML (Anti Money Laundering) ramifications. The balance between security and liberty/privacy has been debated in Ben Franklin's time, and will be a continuing debate as these issues evolve.
In the next installment, we will explore how Cash can be a critical Operational Risk reduction play and Business Resiliency enabler!