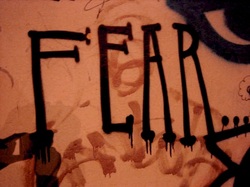 Fear. The very word conjures up fear (tautological, no?). Fear can immobilize you, rob you of opportunities and adventures, and impact your mental and even your physical health. "Scared to death" is not just an expression.

Well, I choose not to be afraid. Not just to grit my teeth and jump into the next adventure. Not to be foolhardy. I choose not – not – to be afraid. This was not an easy choice, nor was it a quick one. I came to this choice over a circuitous route.

I attended college in Newark, New Jersey. Suffice it to say that the word "bucolic" did not come to mind. The riots of the 1960's were over a decade behind us but the aftermath still remained. Car thefts, muggings and assaults were part of college life. The fraternity next door to us was firebombed, as was the frat across the street.

One Saturday afternoon I was having lunch in a local joint. To say I did not have anything in common with the other patrons would be an understatement. The only other man that stood out like I did was an older guy at the end of the bar. As I went past him to leave, he leaned back and whispered, "Hey, I'm an undercover cop. Call the cops when you get outside. Please!" I left the bar, white-faced, and simply drove home. I did not call – I was afraid. Why? I was already out of it – why did I not make the call? I was afraid. That moment has always haunted me. I hope he got out all right, and I hope he forgave a skinny college kid for being afraid.

Fast forward to the 1990's. I was in an auditorium at an event for my job at a global consulting firm. Suddenly, someone a row ahead of me and three seats away went into a convulsive seizure. People started crowding away. The partner on the stage started barking, "Everyone calm down. We've called 911!" I remember thinking, "Someone should take charge here, move the people away and organize them into moving the folding chairs so EMS can get through." But I didn't. I was afraid. Why? There was no danger, he was not contagious. I simply went with the crowd. EMS came, and precious minutes were wasted while they cleared away the chairs. Our colleague eventually came through OK, but that moment also haunted me.

Later in my life, I made a vow to myself that I would not let fear get the better of me. Even more, I made a vow to choose not be afraid. This decision was helped by my epiphany, embrace of faith and realization that God is in charge and His will be done (no proselytizing, and this is not a religious piece. Believe what you want – just do not be afraid).

Fast forward again. I am commuting home from NYC to New Jersey on the PATH train. Late night, everyone's head's buried in the Wall Street Journal or New York Post. A group of three "youths" (the Brits would say "yobs") boarded the train and started painting their gang sign on the wall with a small hobby paint kit. People looked up, then buried their heads back down. I looked inward and chose not to fear. I yelled, "Hey!" They turned around, shocked. "Don't be doing that! Who do you think you are?" They stared at me, incredulous. "What you sayin', yo?" I faced them down. "Nobody wants any trouble, but this is not your train. Don't be tagging up the train. Put your paint away and behave yourselves." They looked at each other and took a step towards me. Nobody else stepped up. I am not a tough guy and I'm not a fighter, but I refused to back down. I stood up to at least get some maneuvering room. I also said a quick prayer that my guardian angel would help me. The train pulled into the station… the door opened… and three guardian angels stepped in. Not wearing white robes, but wearing blue Port Authority Police uniforms. The "youths" stepped back in surprise. "Officers, these guys are tagging the train. Look, the paint's still wet. The skinny one has the paint in his pocket." "Oh, ho! Really? OK, come here you punks!" The angels grabbed the punks and hauled them off the train. The train erupted in applause for me. My initial annoyance gave way to mercy. I understood – they were afraid.

Fast forward again. I'm in London working on business impact planning for the 2012 Olympic Games. I had an afternoon to kill. Emirates had just opened their sky-high cross-Thames tram that morning. Now, I will admit to a touch of acrophobia (and as a pilot, this was an interesting dynamic to overcome). I stood in front of the tram entrance, looked up, and chose not to fear. Next thing I know, I am headed skyward in a gondola. I thought to myself, "not only am I suspended over the Thames River by a steel thread, I am in a high-value target – attacking Emirates would be a terrorist coup." I took a breath, chose not to fear, and sat back for the ride.

Last story: I was following a friend's car to a retreat. Not knowing the directions, I struggled to keep up. I will admit to cutting off a driver to stay behind my friend. This sparked an episode of road rage – horn blaring, obscene gestures, and he followed us for three miles and into the parking lot. I phoned my wife in the other car, told her what was happening, and said, "Stay in the vehicle, lock your doors, I will handle this." He pulled in front of me and leaped out of the car, screaming and cursing. I did not react, I did not meet force with force… but I chose not to be afraid. I calmly let him vent and talked him down. Was I prepared to stop him from harming me? Yes. Would I have permitted him to harm my wife or friend? Of course not. However, it was not about violence. It was about choosing not to fear and managing the situation to a successful close.

Please let me close with a quote from one of my favorite authors, Frank Herbert:
"I must not fear. Fear is the mind-killer. Fear is the little-death that brings total obliteration. I will face my fear. I will permit it to pass over me and through me. And when it has gone past I will turn the inner eye to see its path. Where the fear has gone there will be nothing. Only I will remain."

Be not afraid.
***



Post-Script: Christmas Holidays 2015. I'm upstairs taking an afternoon break when the doorbell rings. Thinking it's a delivery man leaving a package, I put my shoes on and start down the stairs. As I do, I hear a sound. To myself, I think, "Was that the door opening? I usually lock it even when we're home." I turn into the hall... and come face-to-face with a man in my house. He looks at me, I look at him. He starts to stammer, "Uh, uh, is this so-and-so's house?", as he slowly advances on me. To myself I think, "OK, Howard, deep breath, be not afraid." I start slowly backing into the next room, faking a smile. "So, you're So-and-so's friend? Well, I'm not sure if he's here, I can check..." I back up against a drawer and equip myself to handle the situation. Now I can lose the fake smile. "OK, you're in the wrong house. I need you to leave, NOW!" He backs up a step, surprised and little shocked. "Hey, no problem, Mister, hey these houses all look alike." "Well, this house looks like the house you have to leave. NOW!" He backs his way to the front door and takes off. Was it an innocent mistake in address? Maybe. Did situational awareness and choosing not to fear save the day? Absolutely.


Be not afraid.